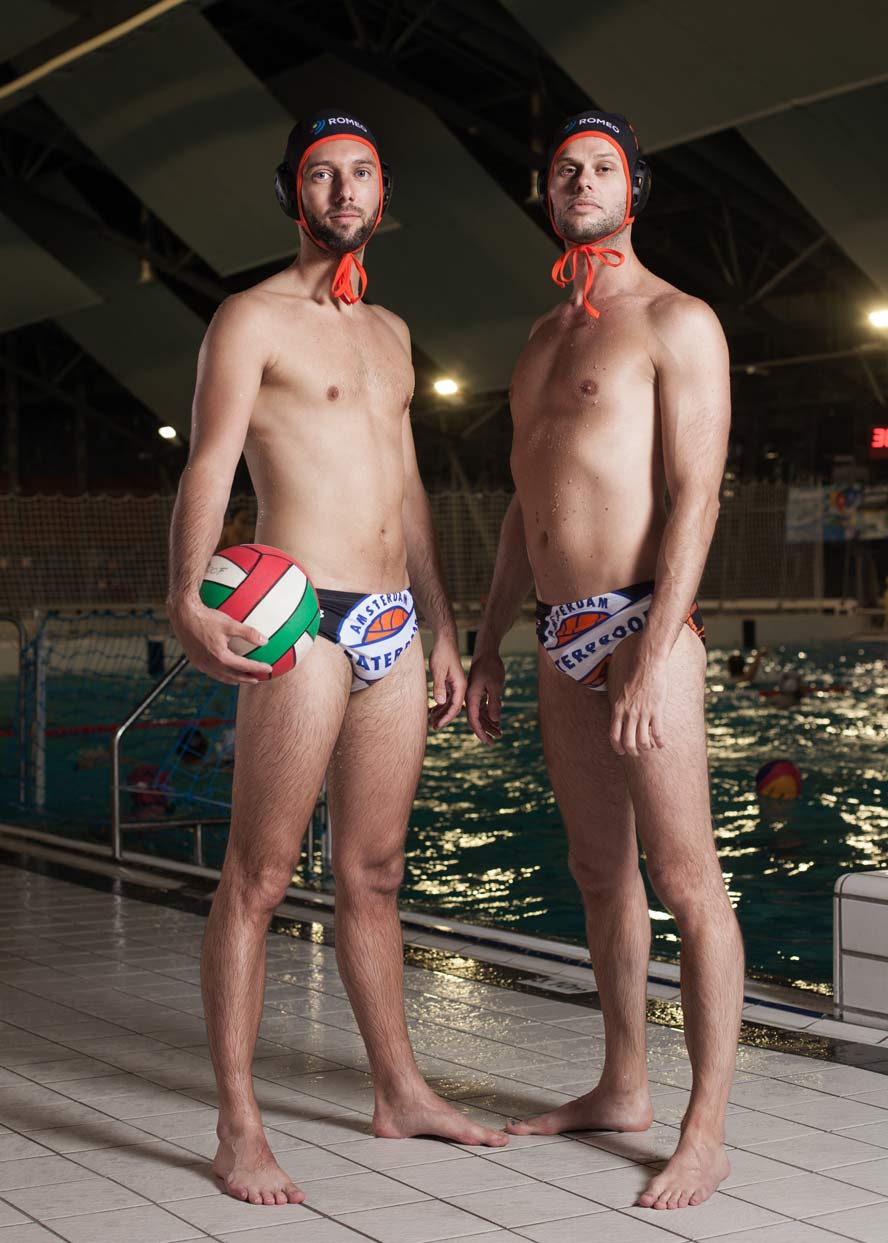 #8

Marc & Lars

"Southern Comfort & The King"
| | | |
| --- | --- | --- |
| | Marc | Lars |
| Age : | 30 (but nobody has to know) | 38 |
| Weight : | 70kg | 66kg |
| Height : | 1.80m | 1.83m |
| Position : | Center | Center |
| Experience : | 2.5 years | 1.5 years |
Marc: Hello, I'm Marc, and although Lars is not really my twin, we are together for this collaboration with ROMEO. We do have some things in common like, we're about the same height and weight, but I'm the younger one.

I first started at Waterproof when a friend invited me to train. Being on a gay team is excellent fun! There isn't really much difference to a straight team, everyone is committed to do their best and to win in games. But outside of competitions, you can also share drinks on the weekend, and you see each other at (gay) parties. The only downside is that the newest cute guy on the team is adored by most of the teammates too.

If you're coming to the Gay Games, head to the pool where the water polo is going on, and speak to us! You'll recognize us in our great outfits with the ROMEO logo.
Lars: Hello All, I'm Lars the King. During the training and games, you wouldn't notice that we're a gay team. But after practice, we're one big happy family. There's always someone who would like to have a drink or party. I can say I met a lot of new friends. When I'm not training with Waterproof, or at the gym, I'm often working in my garden. I like to party, and I love spending time with my friends. I do have a partner and, after 9 years, I'm still in love. And of these 9 years, I'm married 3 years now. If you are going to be in Paris in August, join us at the opening ceremony and support both Waterproof teams and enjoy the rest of the party, party, party!
Desert island essentials:
The Boyfriend
Sun Protection
An some cocktails.
An Airplane
A Boat
A surfboard
or something to get back to the real world. I think I would die if I would live on a desert island for the rest of my life.