Who runs the ship here at ROMEO? Well, we want to introduce you to the fantastic team that works extra hard in the background to keep our platform up and running!
We may have had a few hiccups recently, but our ROMEO Ops team (made up of the Backend and System-engineer teams) is the one that saves the day every time. Downtime is never fun, but it can happen. This is why we chatted with our Chief Technical Officer (CTO) Markus Pfeifer to give us a little peek into his world.
Hi Markus! Tell us a little bit about your team.
We have an amazing team of over ten people from all around the world. We've got folks from Russia, Algeria, the United States, Italy, Turkey, India, and Germany. They are Backend- and System-engineers with a lot of knowledge in Linux, PHP, Node.js, virtualization, storage, and networks. They're basically a bunch of cool people doing cool stuff with tech!
How do you handle challenges when they come up?
Next to the daily work, the Ops team rotates on-call 24/7; there are always two people ready to jump into action when ROMEO faces issues. They get instant notifications and alerts, even in the middle of the night. Sometimes, they need a few minutes to reach their computers if they're out biking or swimming. They make it a priority to fix things ASAP and keep the platform running smoothly for all of us.
Our tech team was working hard again in the server room on Wednesday night. Give them a big 👏 and 🥰 . Nerds are sexy 😍
.
.#ROMEO #ROMEOLOVE pic.twitter.com/gissmz6Phs

— ROMEO (@PlanetRomeo) October 27, 2022
So, what's going on at the moment?
Last fall, we started virtualizing large parts of the platform. This means that we would get rid of older servers and make the current servers faster and more reliable. By doing this we will also cut power usage and physical space by 50%! With such a complex procedure, things didn't go as smoothly as planned. We faced unexpected behaviors from these components, and that is always a possibility when dealing with old platforms. In our case, we were hit somewhat hard, to say it nicely. But we've learned a lot from this and hopefully downtimes on ROMEO won't be a thing in the coming months.
Would you tell us a little bit about yourself, Markus?
I am originally from the German-speaking part of northern Italy, and I have lived in the Netherlands and Spain for many years. Currently, I have been a part of the team for three years and have been living in Berlin for over 14 years. Apart from my work, I am crazy about my one-year-old dog. I am also a devoted supporter of Hertha Berlin, the football club. I hold the position of chairman in one of Hertha's largest fan clubs, where we actively engage in social work and initiatives against discrimination.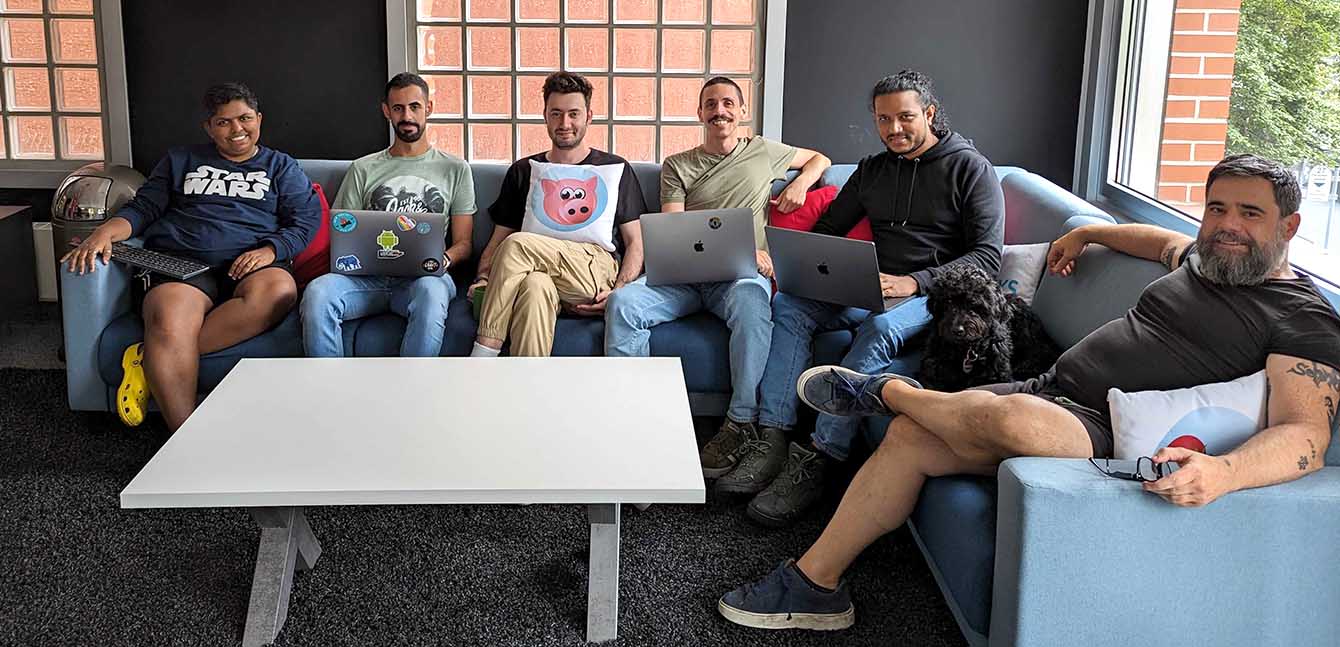 (Right to left): Markus, the Chief Technical Officer, alongside his team: Buddhika Liyanage (Backend Developer), Paolo Merli (Backend Developer), Burak Hamza (Software Developer – Backend), Salvatore Martire (Tech and Team Lead – Backend), Amburi Roy (Software Developer – Backend)
Thank you Markus for letting us into your world!
We hope you've enjoyed getting to know the incredible Ops team behind ROMEO. So, next time you're online, remember these awesome team members who make sure your experience is top-notch. Thanks to them, we can all connect, make new friends, and have a fantastic time on ROMEO!