Yup, Pride season has only just begun for us. Last Saturday, we joined the famous CSD Berlin Pride parade with our own truck for the first time. You're probably aware that our platform is very popular in Germany. Over 20% of our users are based in Deutschland. They even refer to us as "the blue pages" (Die Blaue Seiten). A gay phonebook? We'll take it.
CSD is about a legacy
The Christopher Street Day parade is based on the Stonewall Riots, a historic uprising by queers against police assaults in New York City on June 27, 1969. Berlin's first Christopher Street Day was held on June 30, 1979, with the theme "Gay Pride." The CSD Parade today celebrates queer life in Berlin and is famous for its hardcore party spirit.
A proud team
Our teams from ROMEO and ERASYS (our Berlin office) came together. The ERASYS team is made up of both queers and allies from all backgrounds who are consistently working to elevate the ROMEO experience for all users. Seeing everyone celebrate shoulder-to-shoulder was heartwarming.
ROMEO and ERASYS's teams are made up of colorful, beautiful people who all work towards a common goal and draw strength from their differences and diversity.
Beep Beep: it's the pride truck!
CSD Pride showcases trucks parading through the city with people celebrating on the streets. Our truck, like all the others, was branded with a version of the 2023 Pride theme: "Be their voice – and ours! …for more empathy and solidarity!" Over 60 guests joined us on board for 8+ hours of nonstop music and dancing.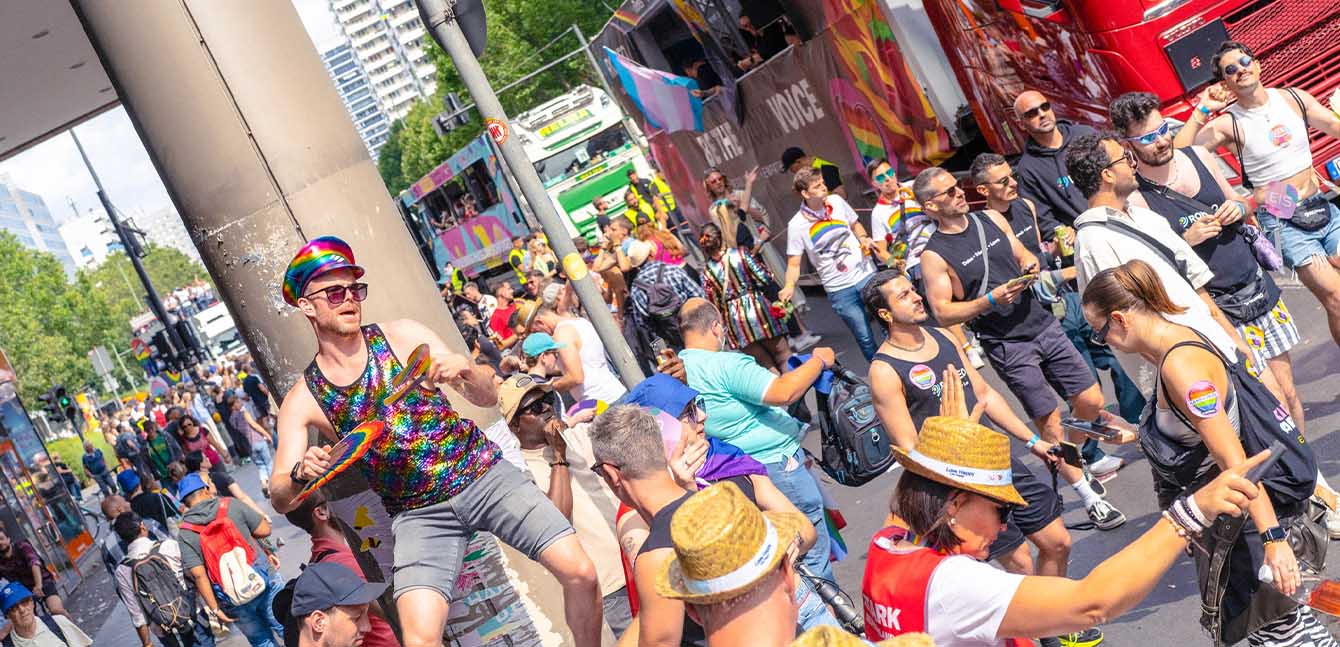 CSD Pride is all about parties on wheels.
Footprints come to life
Our Footprints were a crucial part of our truck design (including the famous Juicy peach 🍑 and Nice tool 🍆 – which were slightly controversial choices but were ultimately approved by the organizers). Footprints also came to life in the form of stickers which our team handed out (and let's just say, they made sure everyone in Berlin and their mother got one). Thanks, team!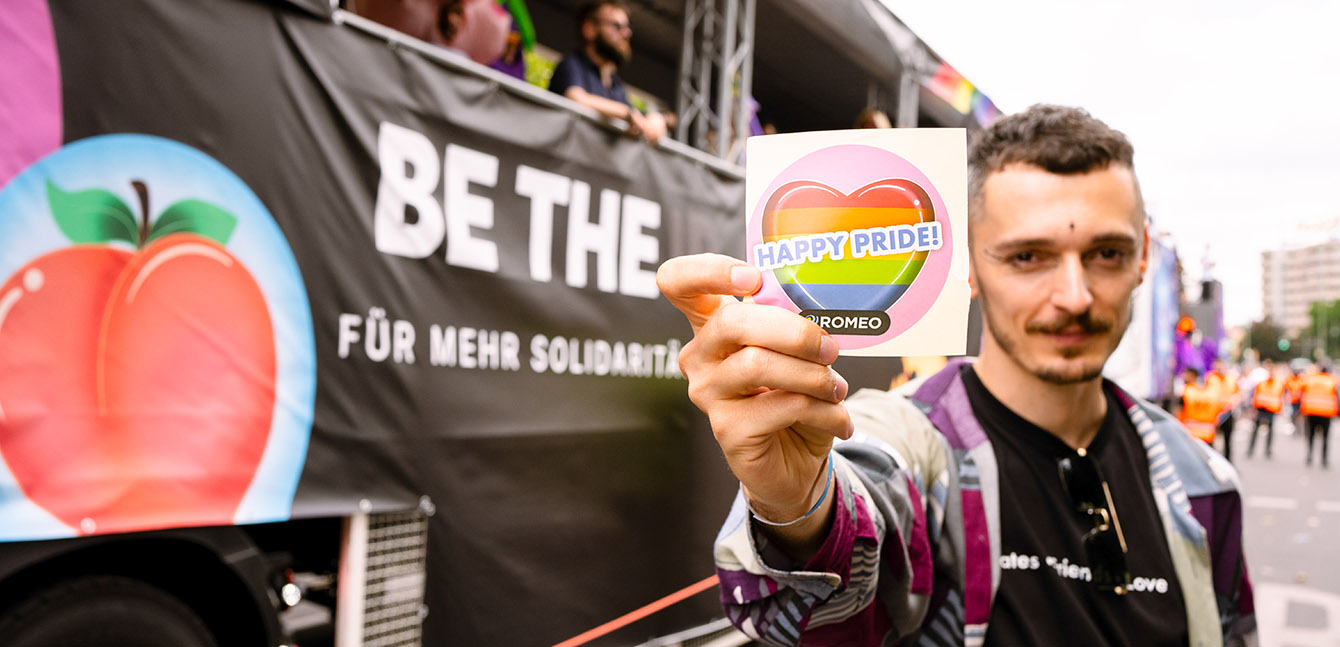 We wish we had real-life Footprints everyday tbh.
It's called glamour. Look it up.
One of the highlights of our CSD experience was the presence of gorgeous drag queens on board! Our Content Creator, Amin, AKA Amiri The Villain joined the party next to her sister Puma Hilton. Passersby who saw the queens were left gagging (as they should be). They simply couldn't take it.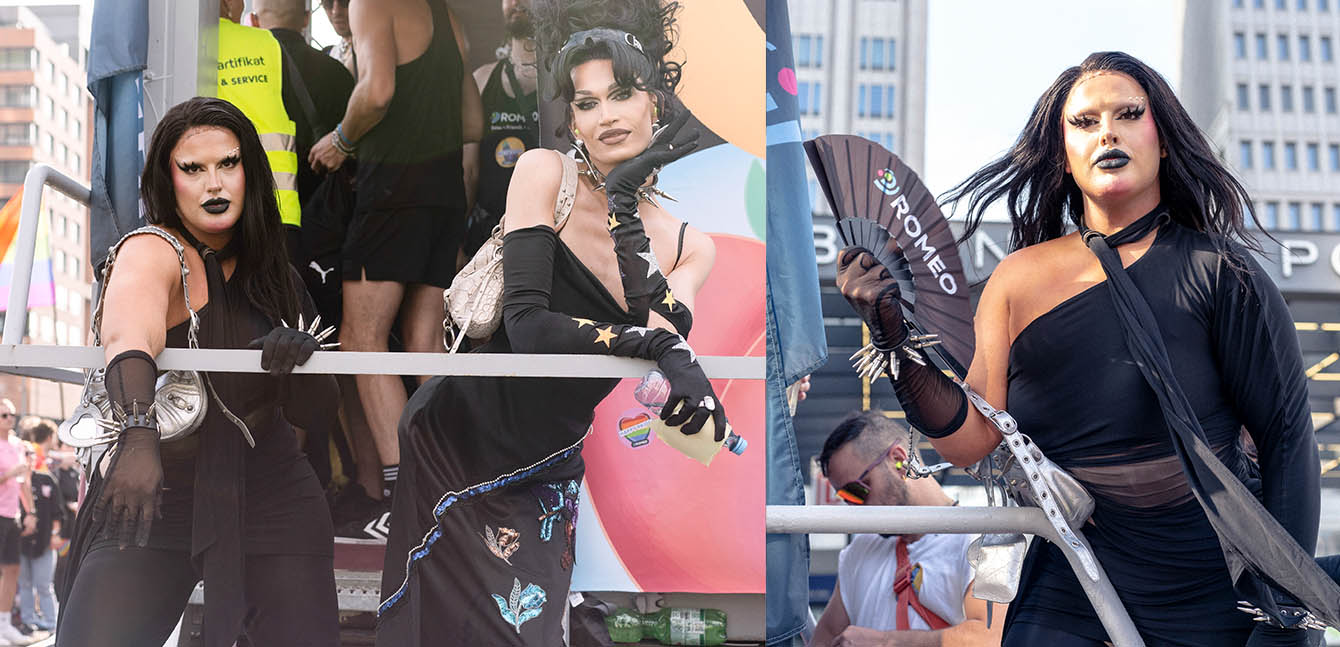 Amiri and Puma
Well, that's not all – our fantastic DJs were also two fantastic German queens who were doing more than just looking good and feeling gorgeous. The beautiful Anna Klatsche and Karma Attitude were the commanders of our ship, and they led us to victory.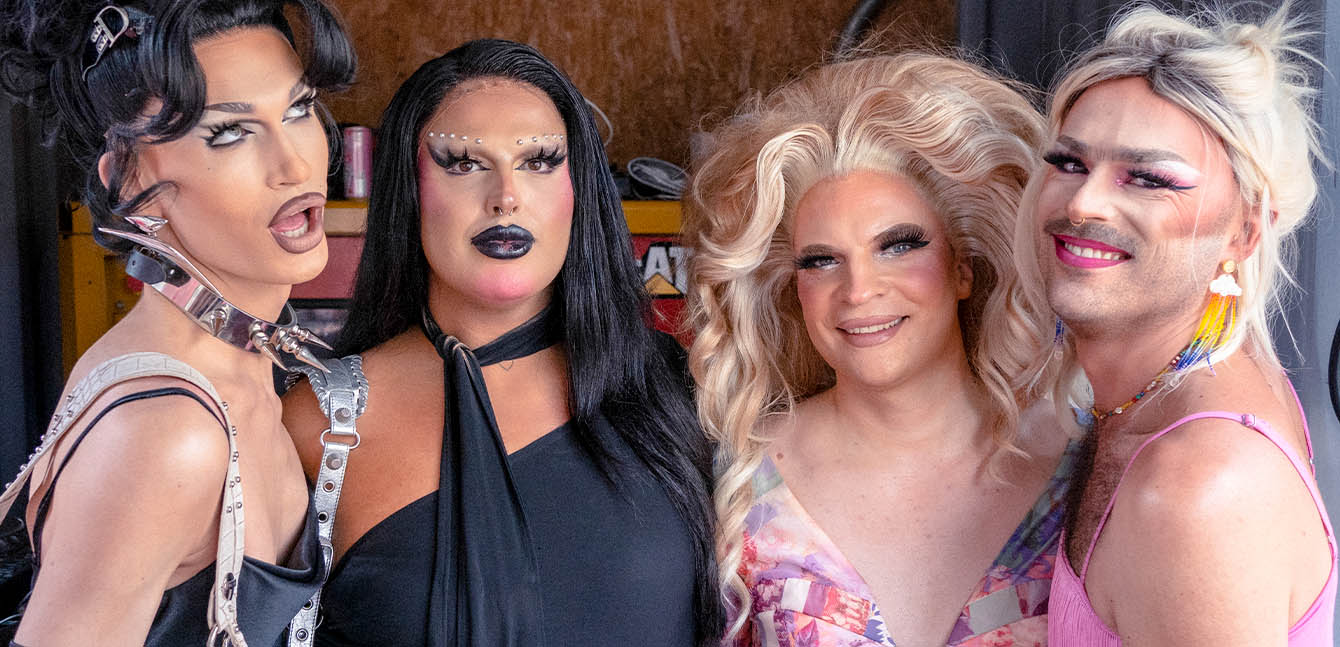 Puma, Amiri, Anna, and Karma
A Stoic from Oslo in Berlin
Alexander, also known as @stoicinoslo on Instagram, was our lucky giveaway winner from Norway. Alongside his plus one (his sister), he joined us on our truck and had an amazing time. He also shared this really touching story with us: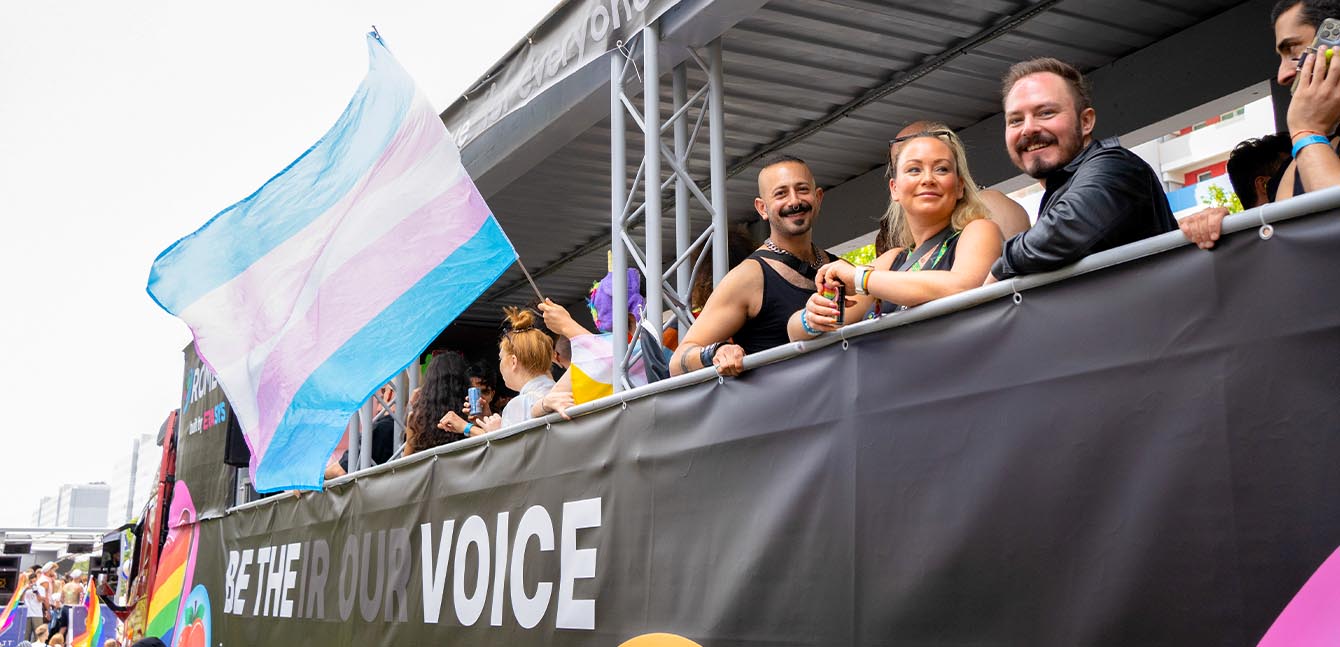 Alexander (far right in the picture) with his sister and the ROMEO team
I had such a blast at Berlin Pride. I haven't been outside Norway since 2019 because of the pandemic, so I was super excited when I won the giveaway. Berlin did not disappoint. The city has this amazing, vibrant vibe. Super friendly and relaxed. Also, there are hot guys everywhere. I mean everywhere.

The ROMEO truck was definitely the highlight of the trip. It was this huge truck with everything you would need to have an amazing time. Lovely people, food, drinks, and an awesome DJ in drag that played all the best music.

Last year at Oslo Pride, I had to run from bullets as an anti-gay terrorist opened fire at the gay club I was in. So I was a bit nervous going to Berlin Pride but seeing all the happy people celebrating love and diversity, but also all the protest signs go to show that we will all fight tooth and nail for our right to love, be visible, and be free.

My +1 was my sister. I brought my sister because she's never been to Pride, and I haven't seen her in a few years. She's not part of the LGBTQ community but an ally. So I'm so glad ROMEO let me bring her with me. It meant a lot to share this experience with her. Your first Pride can often be overwhelming, but she loved every minute of it.
Just the tips
We keep it real at ROMEO. CSD Pride is not a breezy, in-and-out kind of experience. It's a long day that you should prepare for. Are you thinking of attending CSD in the future? This checklist has you covered:
Be prepared for a long, busy day of celebration.
Do not wear open-toed shoes – the streets will be full of broken glass.
Be cautious around moving vehicles and security guards. Moving trucks are part of the parade.
Look out for one another and be kind.
Install ROMEO – we know you'll want to connect with others and plan your weekend. 🤪
Give love, get love
On a final note, we will leave you with some experiences shared by some of our people. Moments like these really warm our hearts and reaffirm the importance of community. See you at the next CSD!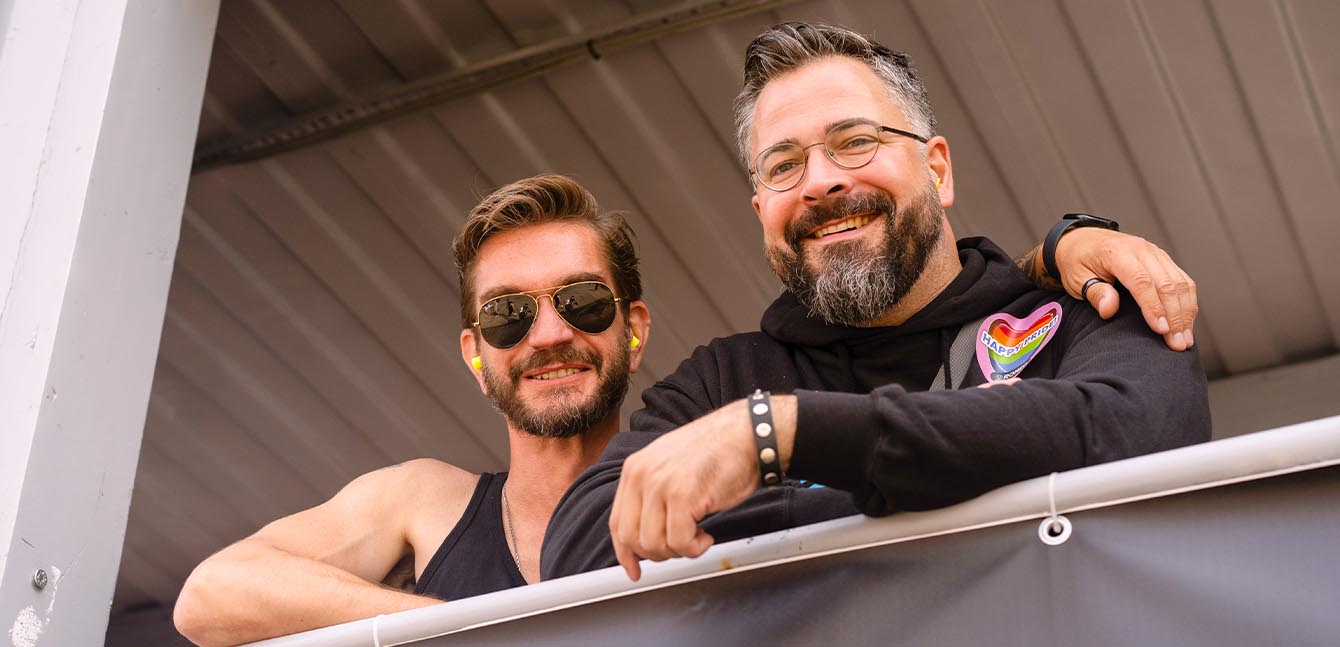 Even though we've been here for the community for over 20 years, this was our first time participating in Pride with a truck to connect with everyone celebrating life together. Our employees loved engaging with people from around the world!

– Holger Bauer, CEO of ERASYS (left in the picture)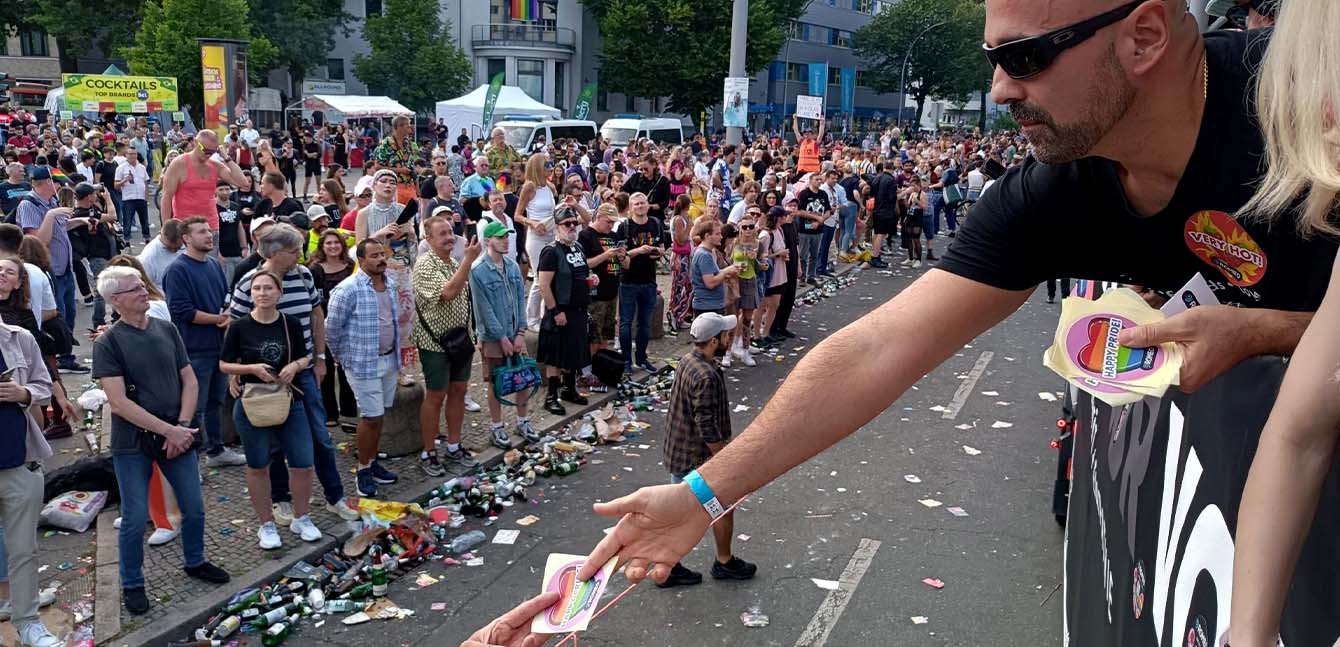 I really enjoyed the people's reactions and tried to connect with them individually while handing out swag from the truck, especially the very shy ones.It was very cool to put a smile on people's faces when they did not expect it!

– Darko, Head of Product Design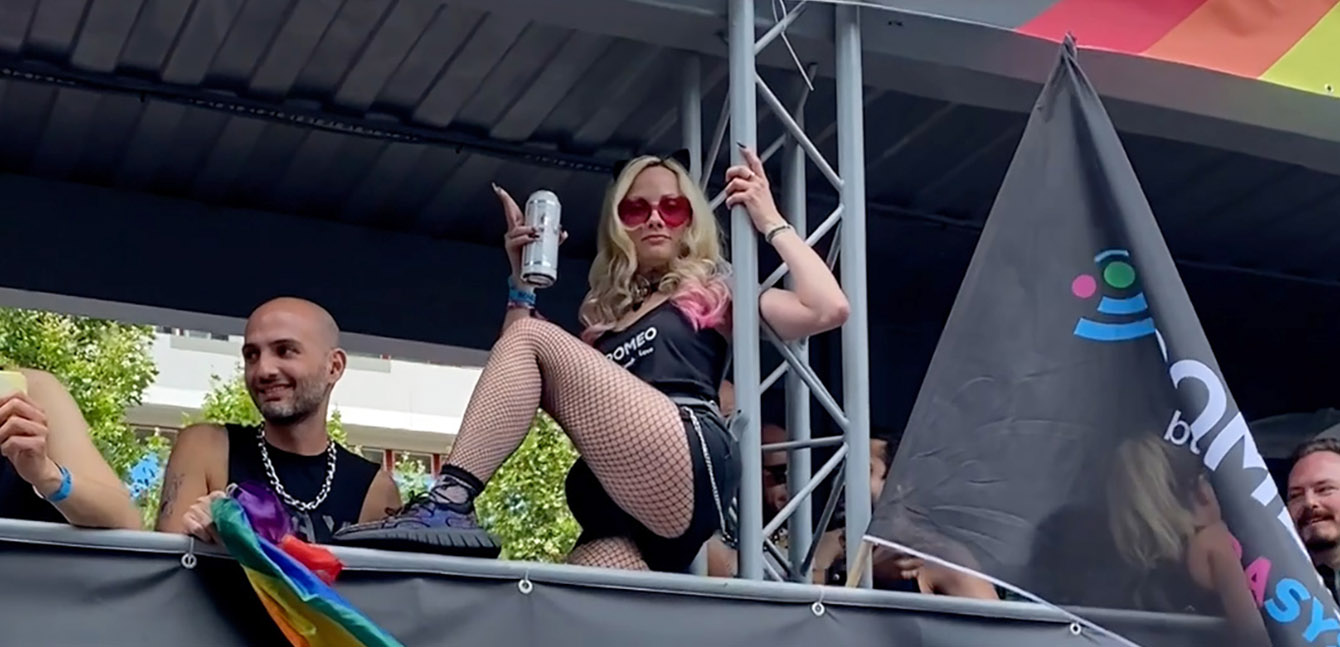 Oh, it's hard to describe how excited I was! This was the opportunity to meet our very own office drag queen finally. I was dancing on the track "pole" next to my "better half," which made us even closer. He got way much more attention tho. It was like another level of connection with colleagues. Uff, I still have shivers… Padam!

– Marina Moshnogorskaia, Frontend developer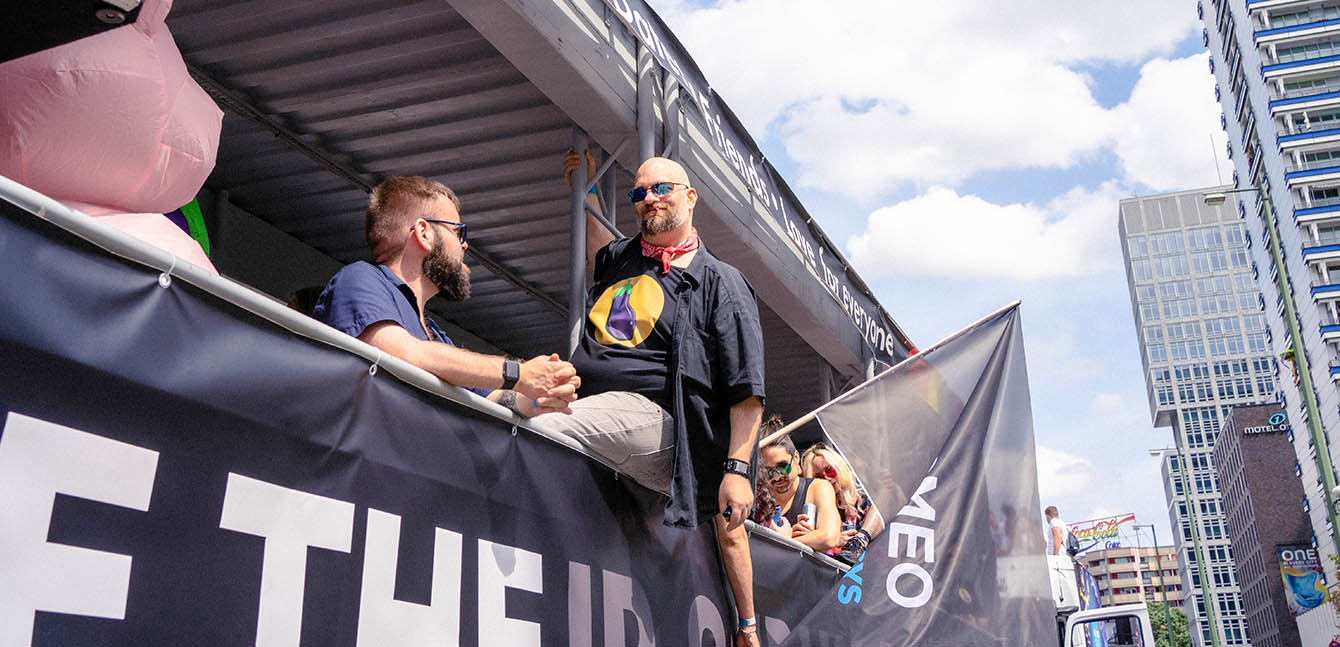 After 5 years of not participating in Berlin Pride, it was a blast. The mood was great, enjoying various music that was not hit-rotation or pure techno beats – our DJs did a great job! As we were at the very end of the parade, I was pleasantly surprised by how many people stuck around to the end and celebrated with us. Sticking our footprints on people was a highlight for me. It was fun and people laughed. I have not touched so many people in years.

– Thilo Rockel, Sysadmin