You know what they say, there can be no rainbow without rain… This was certainly the case last weekend as we set out to participate in the Canal Parade during Amsterdam Pride (with over 100 attendees on board!). The downpour did not hold us back: we danced in the rain till we dropped. Being on a Pride boat is an experience like no other. Spectators and on-lookers lined the banks and bridges along our route and cheered with incredible energy and enthusiasm. Being on board and receiving all that love is a rockstar experience, and we'd love to share it with you. Looking for a recap? You're in the right place.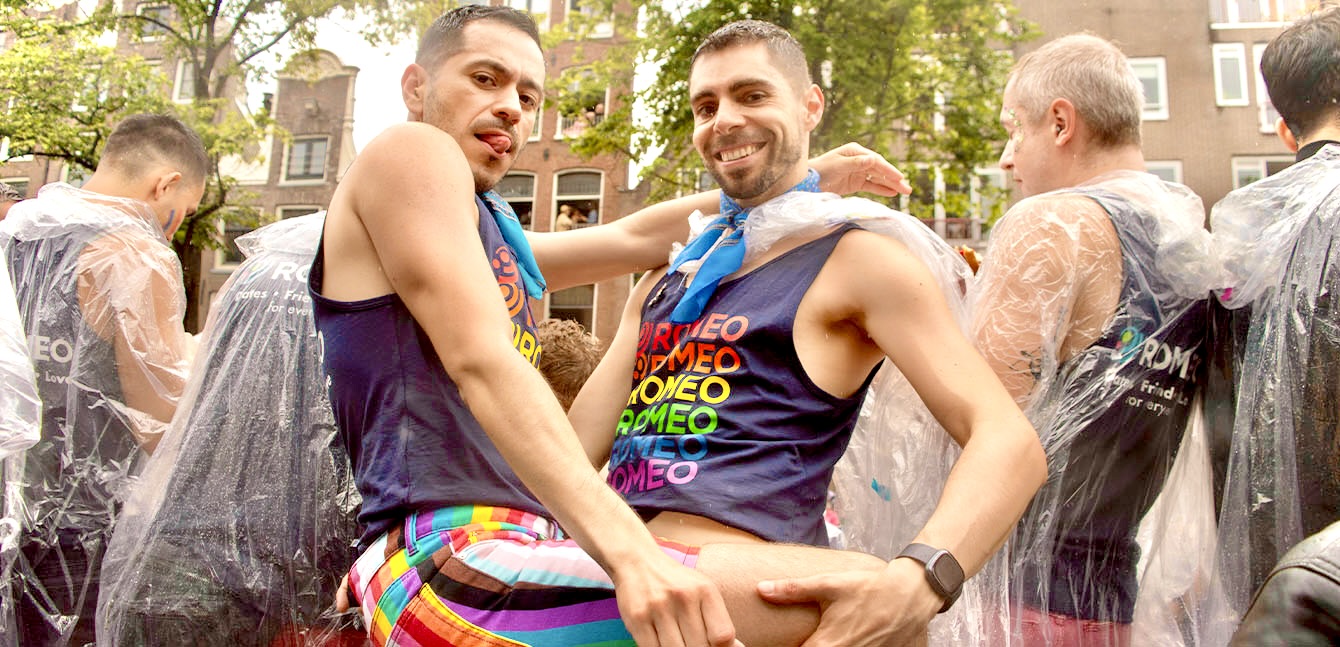 Omar and Alexis busting their sexy dance moves despite the rain
We'd hoped for sunnier skies, but the Dutch weather gods had plans of their own. We didn't let that stop us! We embraced the bad weather with ponchos and kept the party hot. Cue Mariah Carey's "Through the Rain".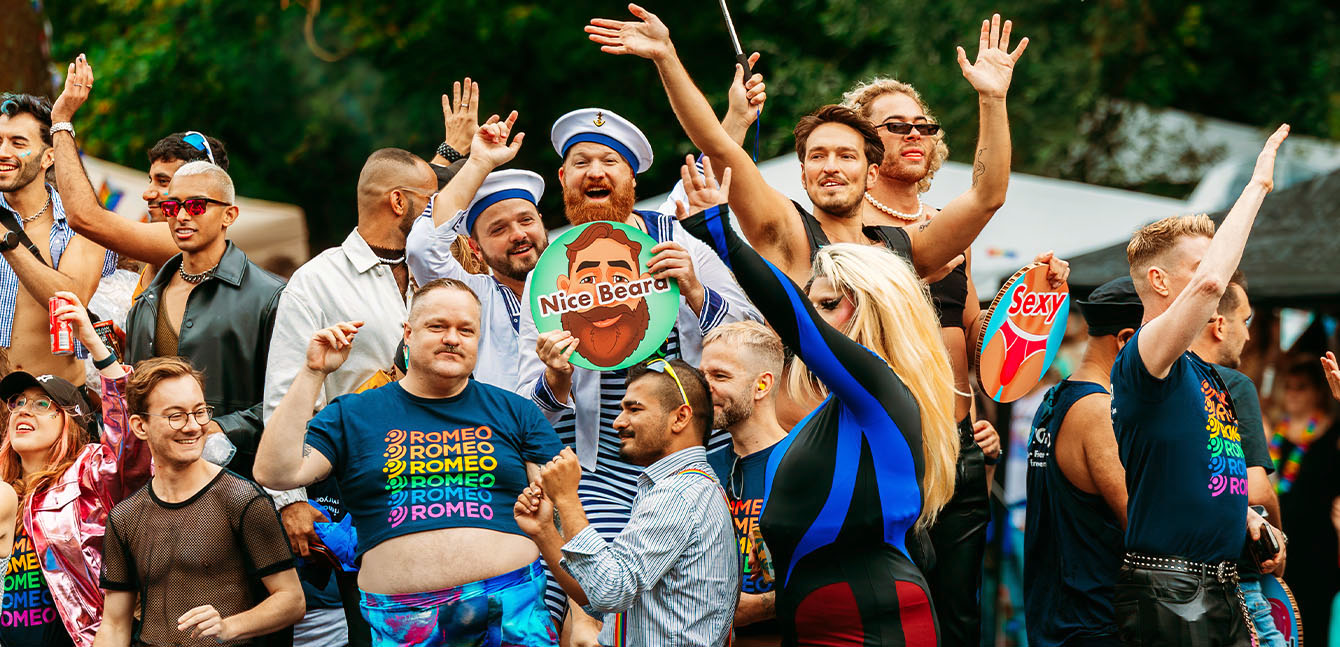 Our boat for the Canal Parade had over 100 attendees
We were proud to have not only ROMEO employees, but also members of the PlanetRomeo Foundation on board. They work tirelessly to fund projects that create positive changes for LGBTQ people worldwide, especially in places where help is needed the most.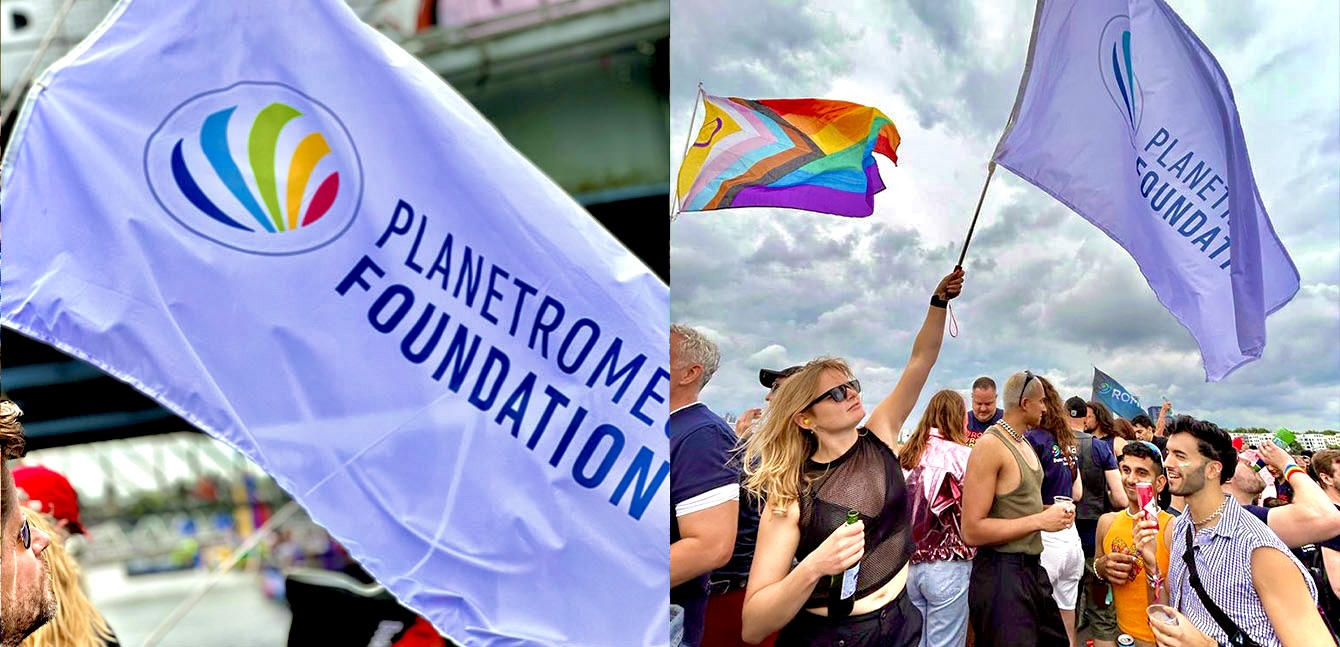 The PlanetRomeo Foundation flag on our boat
Who else was on board? Our dedicated employees from ERASYS in Berlin, along with some iconic influencers like Chris Stan, Art Bezrukavenko, Michael Doherty, and Couple of Men as well as some amazing ROMEO and HUNQZ users who won spots to party with us! With the amazing DJ Raphaella Brown and MC Lynn Stephans (who both did fantastic jobs last year), the party just kept going.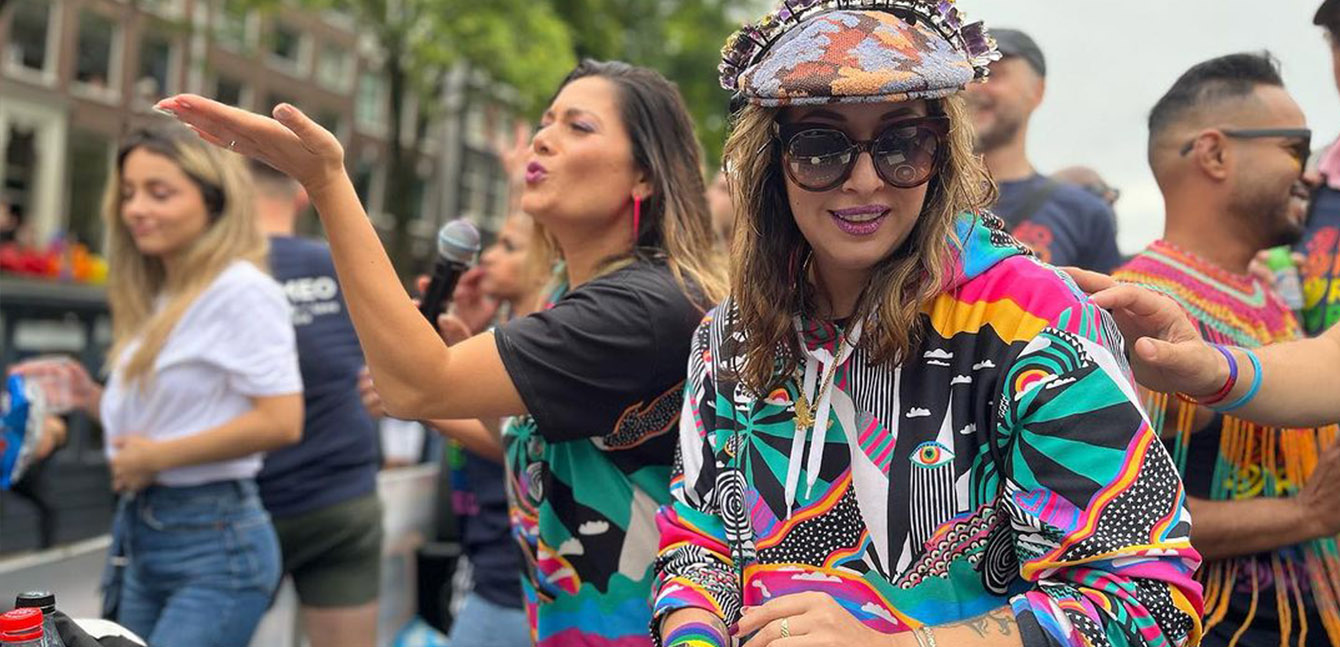 MC Lynn Stephans and DJ Raphaella Brown kept the party going until the last minute.
For me, it was my favorite Pride I have ever been to. The boat was a vibe, and everyone on it was very nice. We had so much fun dancing with everyone and vibing with the crowd. We all agreed that Europeans really know how to party! It seems like even better than Americans. With such a great showing in the rain, we can only imagine what it would be like in the sun. The crowd's energy was just so awesome, and we will never forget this experience for sure!

– Chris Stan, TikToker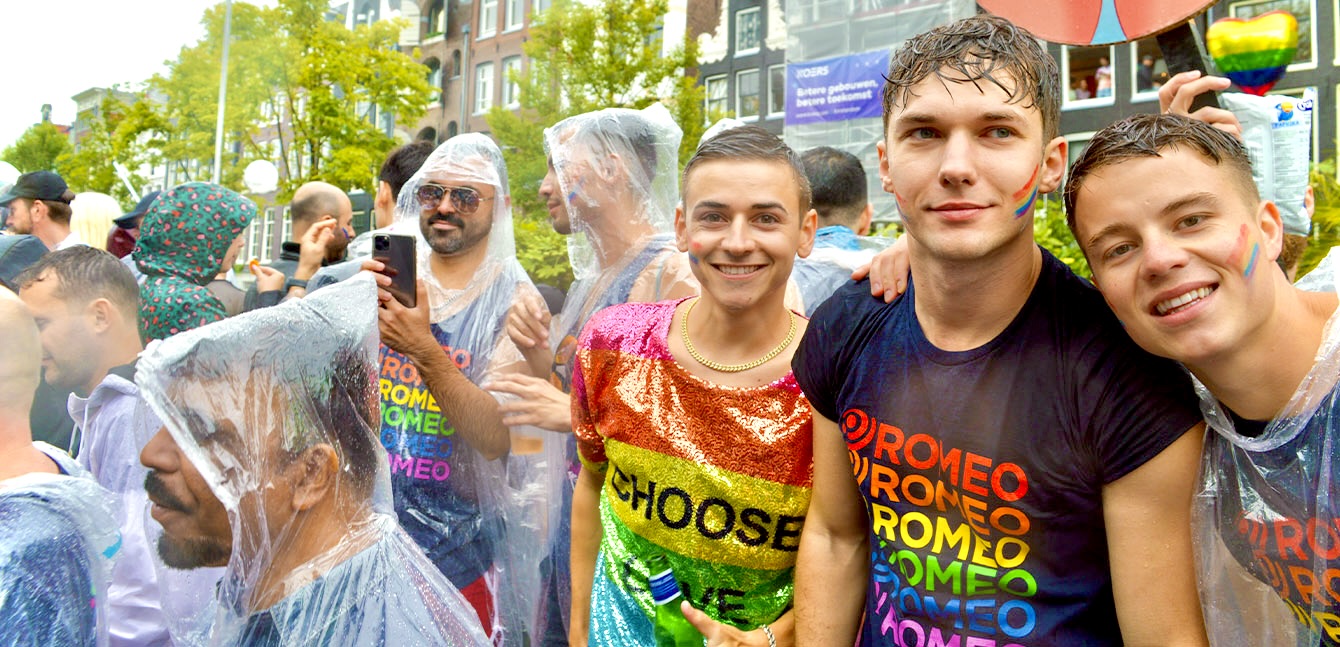 Kiss or slap? Chris Stan, Art Bezrukavenko and Michael Doherty were not afraid of the rain
Pride is a party, but also a protest
Amsterdam Pride holds a lot of significance for us at ROMEO. Amsterdam was the first ever city to hold a gay marriage. For us, this legacy is something we uphold by participating in the parade. In today's climate, visibility is crucial. Allowing queer joy to exist is an act of protest. We are here to stay. We wanted to share this empowering feeling with our friends and allies who joined us, and also with everyone around the world watching.
As a closing note, we would love to share some final words from our participants. See you again next year!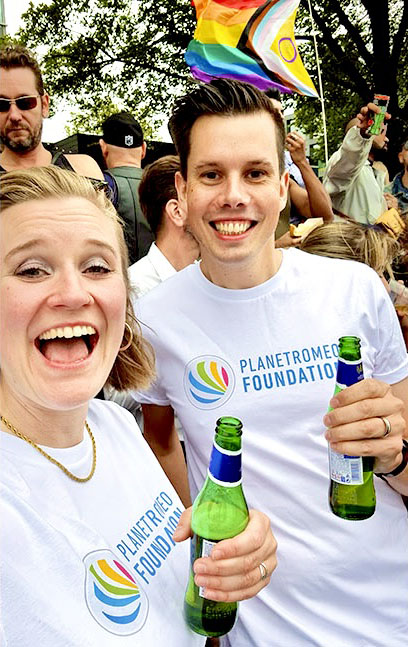 We heard and read firsthand the stories of our project partners: the joy of young trans people organizing film nights or football tournaments to bring their community together, and the incredible hardships of refugees and all our partners in Uganda. Pride is a celebration of everything accomplished by those who came before us, and a protest against all the ways we're still not safe. That's why we volunteer, and danced, with all our hearts. 💕

– Femke van Casteren (they/them), Vice Chair, PlanetRomeo Foundation (left in the image)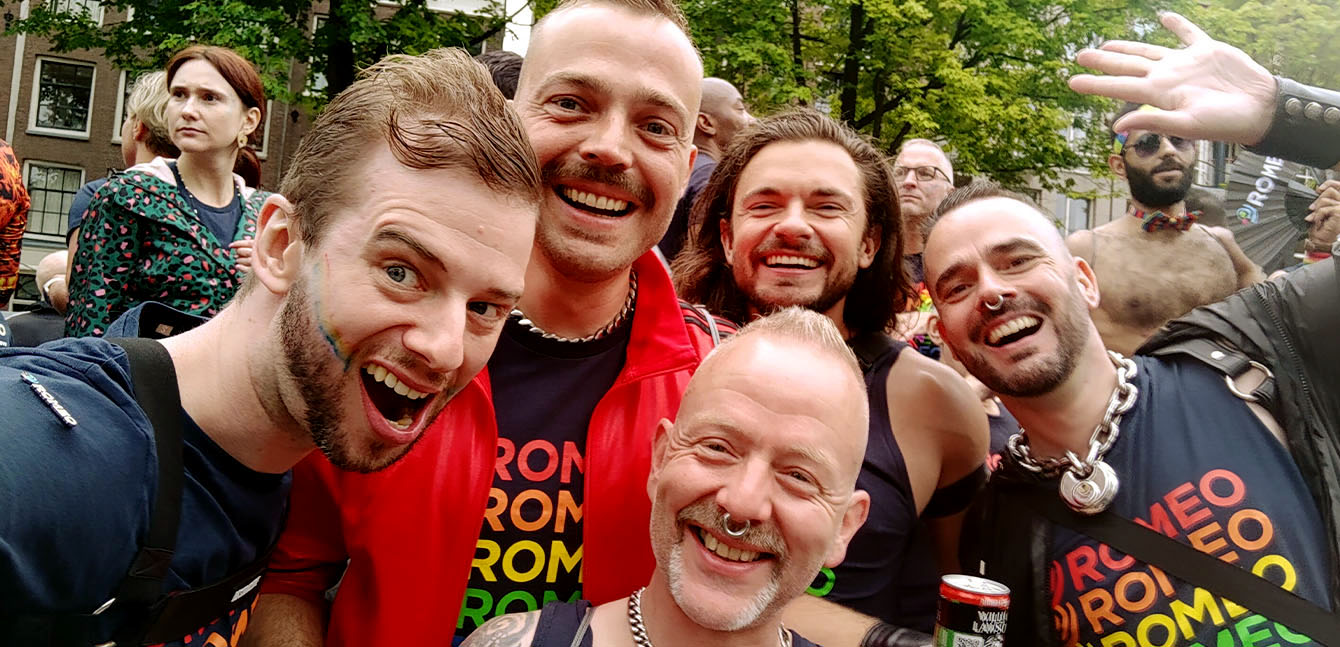 Our participation in Pride on the boat thrilled us again! The energy and connection were incredible, despite the rain. The solidarity and support of the participants and the spectators along the route showed that love transcends all borders. It was an unforgettable experience. I am already looking forward to next year… No pressure! 😉

– Sven Voges, Head of Community (pictured in the center)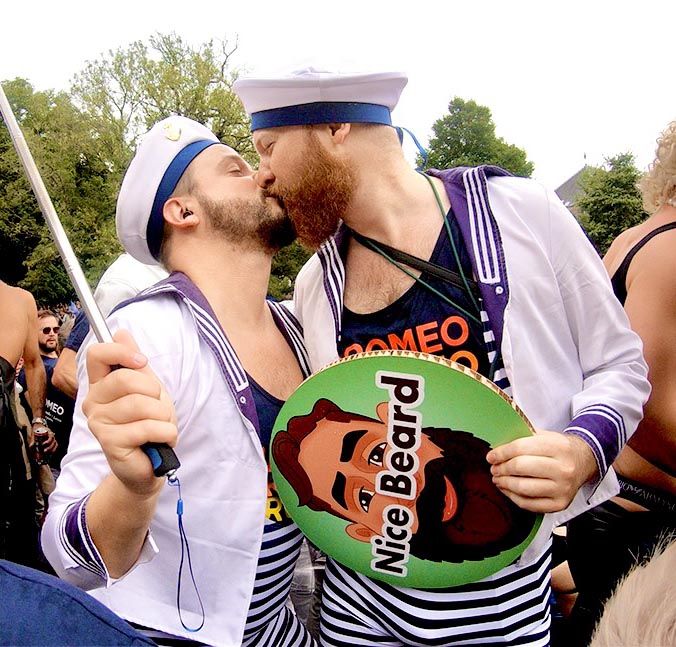 It felt amazing to see all those people who showed up for Pride even though it was raining "men" so much. We even saw people without umbrellas or ponchos cheering us on from the side of the canals which gave us the power to dance and celebrate diversity in the rain with them. Because a little bit of rain won't stop us from being proud! We love to use the app whenever we are abroad to get in contact with locals so we were very happy to share our local Pride experience with ROMEO.

– Karl and Daan, Couple of Men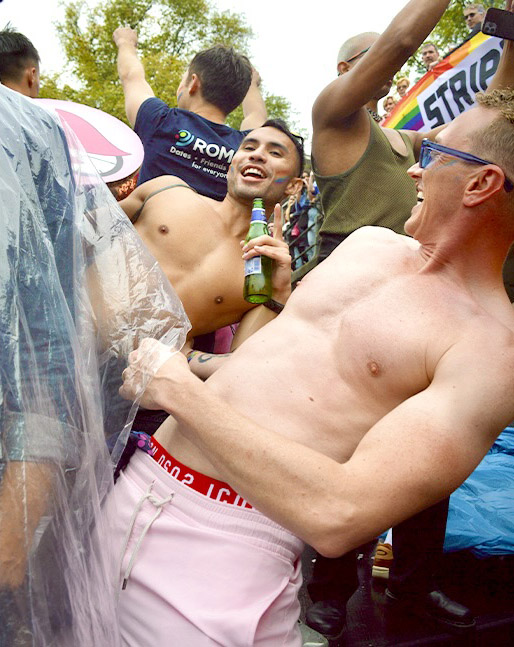 A few days ago I came to Amsterdam to experience Pride for the first time in this city; little did I know that I was not going to be a spectator but part of the parade itself. The ROMEO team gave me the opportunity to live this celebration from their boat, which allowed me to experience Pride from a different perspective. Thank you very much to all of you.

– Miguel, HUNQZ user (pictured in the center)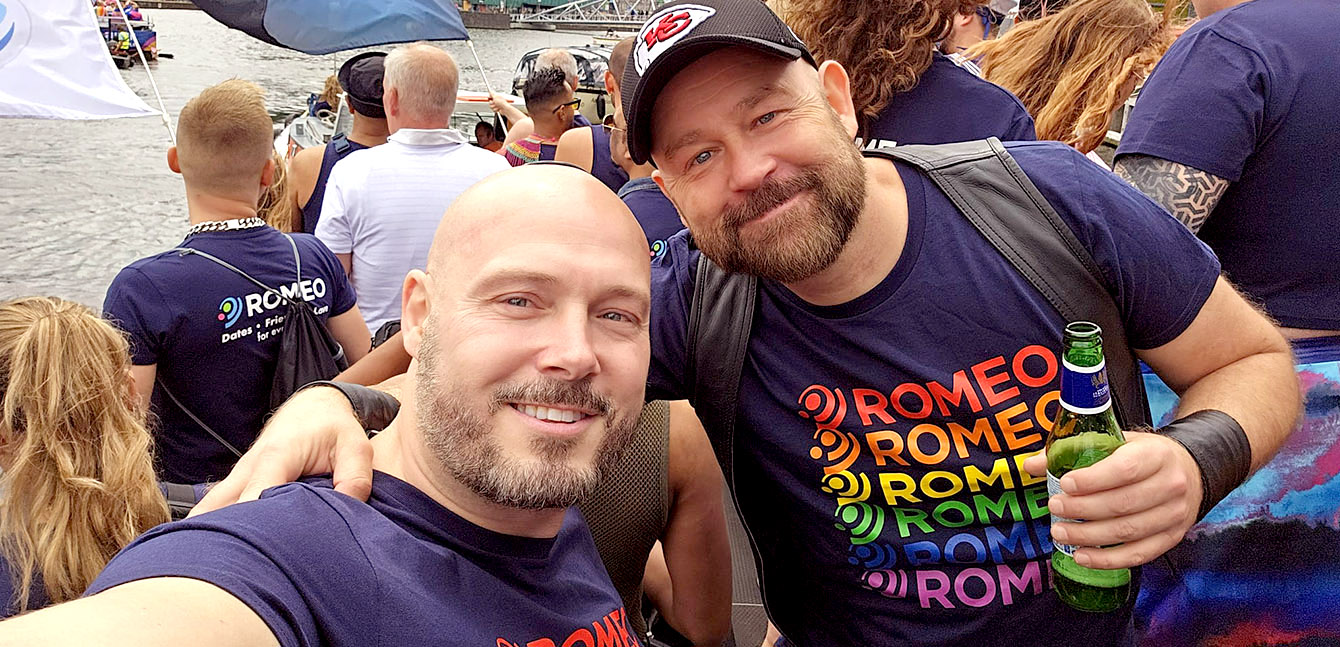 For this Canal Parade, it was my birthday, and we were invited as guests on the ROMEO boat! We had such an amazing time. Perfect DJ, good music, and a great atmosphere; everything was well taken care of. The ROMEO crew made us feel like one of them.

– Ben Ockers, ROMEO User (left of the image)
I've been on several boats during Pride Amsterdam in the past, but to be on the one of the company I actually work at makes me extra proud. To be there with my own colleagues and friends raises the whole thing to another level. So much fun and so empowering. Also it makes me proud to see so many guests have fun on our boat. Everyone felt welcome and had an amazing time, which means we did well.

– Dirk van Baren, Facility Coordinator