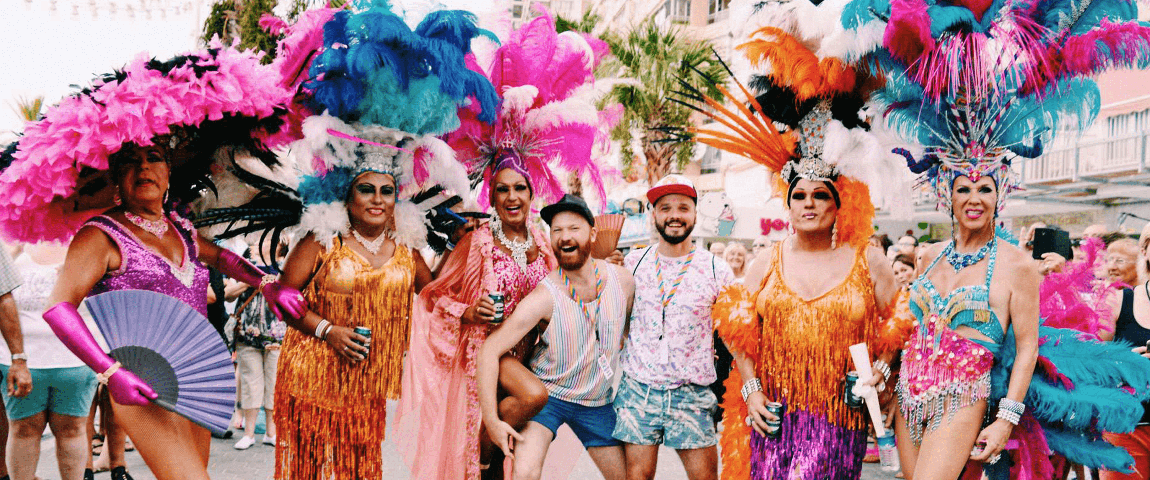 Couple of Men – Plan your next adventure
Plan your next adventure with one of these 5 fabulous gaycations, as recommended by our favorite travel bloggers, Karl and Daan. These guys go on trips as an 'out and proud' gay couple, and they always take their own pics, so you see what they see. The fact that the pictures are incredibly beautiful and often filled with love, well that's just down to talent and integrity. They also share their holiday snaps, travel tips, and cute couple pics over on their blog, Couple of Men.
---
Have you heard about our TRAVEL feature?
---

Couple of Men – Instagram
We raided Karl and Daan's gorgeous Instagram account to cherry-pick five fab trips, and to get some insider information from the men themselves. So here we go, starting from five and working our way down!
Your next Gaycation could be:
5. Slumber Wine Barrel – Germany
During our Winter Road Trip from Frankfurt am Main to Nature Park Hoher Vogelsberg, we spent a night in the gay-friendly hotel "Slumber Wine Barrel" at Taufsteinhhütte in the middle of the forest (German: Schlummer Wein Fässer an der Taufsteinhütte). We have to admit, it was an exceptional experience to sleep in a wine barrel in the middle of a winter wonderland in the German state, Hesse.
4. Carinthia – Southern Austria
We love beautiful Carinthia, with over 200 lakes; it's an Austrian holiday paradise. The region boasts perfect slopes and great snow conditions for skiing trips in winter, plus sparkling lakes and top spa/wellness hotels for summer holidays. We went there last summer for the 10th Pink Lake Festival, and as you can see from the stunning landscape above, this view was breathtaking.
3. Jasper Pride Festival – Alberta, Canada
The Jasper Pride Festival in Alberta, Canada, exceeded our expectations by far. We felt very privileged to experience the heartwarming kindness, respect and equality, and not a single homophobic moment during the snowy Pride celebration. The next Jasper Pride is in April 2018, but we'll be heading to Whistler Pride in British Colombia this January. So, if you can't wait until April, well you know what to do!
2. Japan – Nakagin Capsule Tower
When we went to Japan, we had the chance to stay in the famous Nakagin Capsule Tower. The building has a lot of history behind it and we were so happy we could book a room via Airbnb. The building is slowly decaying and staying there is a very special experience, as it won't be around forever.
1. La Demence Cruise – South Europe
In July 2018, The Cruise by La Demence will set sail to explore the Mediterranean Sea starting in Barcelona. The cruise will follow a new route and will take place on board the newly renovated cruise ship Sovereign. Visiting Palermo and Catania in Italy, the cruise will also stop on the gay-friendly destinations of Malta and Palma de Mallorca before heading back to Barcelona. We had a great time on the last La Demence cruise 2017 and you can see what we got up to over on Couple of Men.

Social Media
Couple of Men are constantly traveling and update their blog often, but one of the best ways to keep track is to follow them on their social media channels; Facebook, Instagram, Twitter & YouTube.
Suggestions
We value YOU. If you want us to cover anything, send your suggestion to social@planetromeo.com. 
We're big on love and relationships. We even like to write about it. Read all about Toxic Friends, Polyamory, and Juggling.